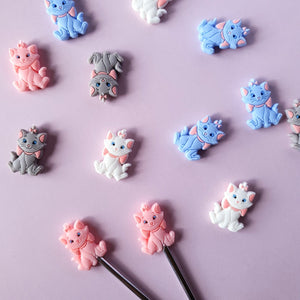 Never have another dropped stitch with these gorgeous cat knitting accessories!
These silicone Needle stoppers keep your project from unravelling when added to the end of your needles. All you need to do is simply pop them on the ends and away you go.
Each set comes with 2 matching Needle stoppers.
Each stopper has a 2.5 mm hole that stretches to fit 3.25 mm needles all the way up to 6mm.
You can pop them on your project whenever you need to set it down.
They fit snug and securely on both circular and straight needles.
The perfect addition to your craft stash!