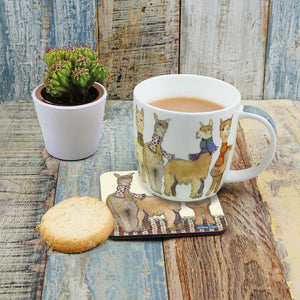 These Fine Bone China mugs featuring Alpacas in scarfs come presented in a stunning gift box, making them the perfect present for someone special.
The mug is both dishwasher and microwave safe, with a capacity of 350ml.
They measure 8.5cm in height with a diameter of 9cm.
So Cute
I love it, and it fits in with my collection so well
It will be taken back from whence it came at Christmas as a gift for an intellectually handicapped lady who is in love with llamas. Alpacas are the next best thing.
Love my Alpaca mug. I really like the good-sized handle.Thanks