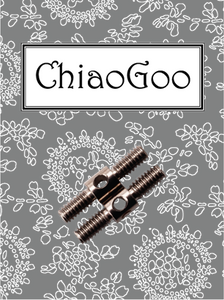 These clever ChiaoGoo Cable Connectors allow you to join to or more cables together. Each pack contains two connectors.
Mini connectors will join Mini cables and tips
Small Cable connectors will join Small cables and tips.
Cables, tips, accessories such as tool kit, end stoppers, tightening keys, rubber grippers and accessory pouches are available through Eskdale Yarns. Lifetime guarantee from manufacturer's defect, excluding normal "wear and tear".
If you can't see what you want we are happy to order it.
ChiaoGoo Cable Connectors
Very versatile enabling joining of cables for more options.
ChiaoGoo Cable Connectors