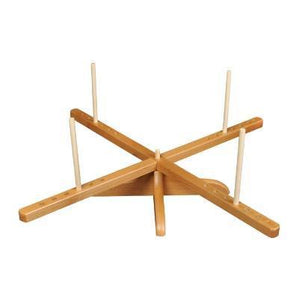 Tired of using chairs or ending up with your yarn in a tangled mess?
ChiaoGoo's Amish-style, table top Yarn Swifts require no clamping. They have non-skid pads on the base to keep them from moving while you are winding a ball of yarn by hand, or using a ball winder.
They are easy to set up or break down and have four adjustable pegs that can be moved to accommodate hanks of yarn up to 155cm.
(Please note this is an oversized item. It can't be shipped with other items and may attract an extra small shipping fee)
Why did I wait so long?
Recently, after spending over an hour and a half untangling a skein of wool (and having to cut the knots out after vowing not to) I finally decided to buy the ChiaoGoo Wooden Swift. So far I have only had opportunity to use it once, but it was a dream. No tangles, relaxing to wind the yarn even by hand, and beautiful to look at. Looking for more excuses to use it again. Wish I'd bought one years ago.
ChiaoGoo yarn swift
A simple design that works perfectly
I love my Yarn Swift
Such a simple little machine to use. All I need now is a fast winder (like my spinning wheel) to wind the balls faster.
Fantastic
Perfect skeins every time, great buy
Knit pro Amish Swift
Wonderful service as always.