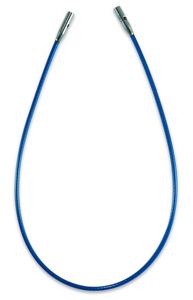 The new ChiaoGoo X-Flex blue TWIST [S] - (Small cables) are now available to add to your Twist Shorties Combo packs or for extra cables for your Twist Shorties Interchangeable set.
These memory-free, extra flexible cables are available in 5cm, 13cm, 15cm, to 20cm lengths and can be connected together using one of our cable connectors.
The 5cm long cables have 3 cables per package and in the 13cm, 15cm and 20cm length packs there is one cable.