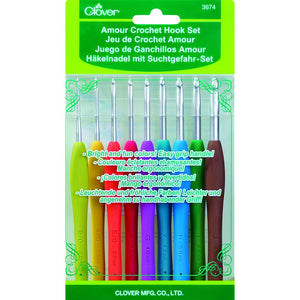 Clover Amour crochet hook set contains 9 beautiful hooks ranging in size from 2mm-6mm.
Each hook has a soft, easy grip handle that is comfortable to use. The Amour hook allows the yarn to glide through without effort allowing you to develop a smooth crochet rhythm. 
Each hook size is a different vibrant colour for easy identification. Enjoy the convenience of having commonly used sizes all in one pack.
This would make a beautiful, quality gift.
clover crochet hook set
I am extreemly happy with my new set of Clover amour crochet hooks. They are beautiful to use very smooth no split yarn any longer. I am exstreemly happy with them
The perfect hooks.
Great quality, glides over the yarn perfectly without snags or separating strands. Love them 💕