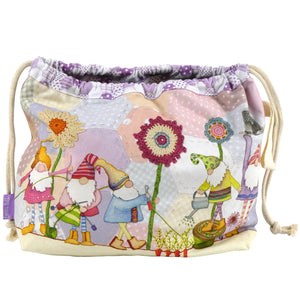 Featuring gnomes who love to knit, sew and crochet, these make wonderful project bags for crafting on the go.
Made from cotton and measuring 39cm(L) x 31cm(H), these bags have a drawstring enclosure with a hanging loop to store anywhere in your home.
They are lined inside with a matching pattern, printed on both sides, and have a drawstring enclosure.
Crafting Gnomes project bag.
My 8 year old grand daughter will love this to keep her Pom Pom maker and French knitting etc in. Delightful fabric and beautifully made. Thank you Eskdale for yet another great purchase, the communication and the super quick delivery.
Happy parcels
Parcels from Knitnstitch are always happy. They make me smile. Excellent service
Gnome project Bag
Absolutely love this knitting bag, beautifuly made with an inner liner. Fits my knitting & excesories perfectly & the Gnome design is gorgeous ❤️
Gnomes drawstring knitting bag
So gnome-y good. Love love the project bag. Fab size perfect for the cardigan that is currently in my needles. The gnomes make me smile 😊 💗