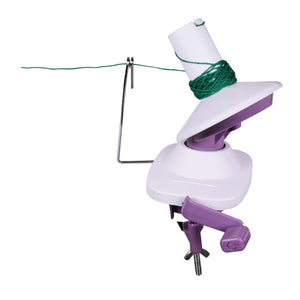 This useful Knitpro accessory is a hand operated yarn and fibre winder which quickly and easily creates pull thread balls. With an in-built table clamp, that will work on table thicknesses up to 6.5cm, the yarn guide extends and creates the correct tension making it easy to wind yarn or thread.
Please note: This is an oversized item that may attract a small amount of extra shipping and can't be shipped with other items
KnitPro Ball winder
Very happy, thanks to eskdale for a really good customer service
Does the job well
Winds the wool from a skein into a reasonable ball. Great service from the shop too!
KnitPro Ball winder and Chiagoo Swift
Fantastic products and amazing customer service, will definitely be shopping here again very soon.
It's now so easy to wind skeins, no longer will I feel like I have to buy wool in balls.
So quick and easy
To think I used to spend hours unravelling and untangling skeins of wool and winding them by hand but now it only takes a couple of minutes and I'm done. I also bought the Chia Goo Swift and can't believe how easy it is to use it together with the Ball Winder.
Knit pro ball winder
Love the knit pro ball winder, makes process so much faster & the centre pull balls great