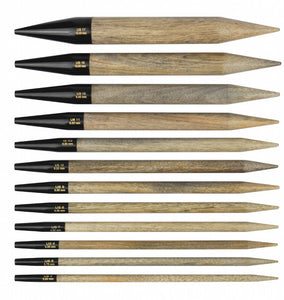 These Lykke 5" Interchangeable needle tips  are made out of strong Birch wood making them smooth, light and easy on the hands.
If you'd like to extend your Knitpro collection these beautiful tips can be used with Knitpro Cables.
All LYKKE needles have both US and and metric sizes etched on the needles to ensure long term readability.
Named after the Norwegian word for happiness, LYKKE knitting needles are handcrafted in Nepal.
The high quality materials and thoughtful design combine to produce beautiful, durable knitting needles.
Lykke Driftwood Needle Tips
Worth the investment
Lykke polished wood needles are top quality and brilliant to knit with. The wood is quieter and warmer than metal, the connections are smooth, and the points of the tips are just the right sharpness to not split plys or poke a hole in your finger (if you're like me and constantly pushing on the needle tip with your finger).
I also like that they are interchangeable with Knit Pro / Knitter's Pride cables.