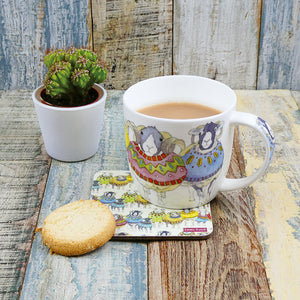 These Fine Bone China mugs featuring Sheep in jumpers come presented in a stunning gift box, making them the perfect present for someone special.
The mug is both dishwasher and microwave safe, with a capacity of 350ml.
They measure 8.5cm in height with a diameter of 9cm.
Box measures 12.3cm (L) x 9.8cm (H) x 10cm(W)
Sheep in Sweaters Mug
I love my mug, It is lovely to drink from and it just makes me smile.
Beautiful mug
Live the two mugs I bought - sheep and alpacas in sweaters! Nice mug, delicate but just the right size. Made in England was a bonus!
Great gifts
I am super happy with the gorgeous mugs and bag I purchased as gifts for my yarny friends and they are equally thrilled with their new goodies.
Super service as always and sent so quickly. A happy customer!
A Project Bag of loveliness!
A really cute, really practical project bag. I loved the graphic and the drawstring top. It's fully lined inside, so no risk of snagging a delicate yarn. The shape and size mean it can hold a good-sized WIP and yet be just shallow enough easy to get into and to work from.
I bought this luscious project bag (with a few other Eskdale Yarns goodies inside) as a gift for a friend, and she was delighted! Now I just have to get one for me!
Sheep mug
I just love my sheep mug, so lovely having my cup of tea from such a beautiful mug. I also love my yarn so I intend to be shopping for more goodies in the near future.
Many thanks, Colleen