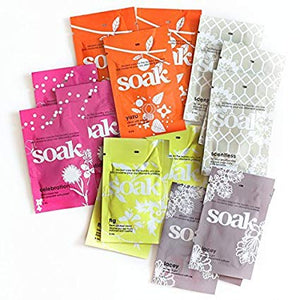 Soak 5 ml sachets are perfect for gently washing that special item and come in a delicious range of scents, plus Scentless.
Soak is a pure, gentle and deliciously scented way to wash the delicate items you care about most

Rinse free formulation - gentle no-rinse, premium liquid laundry wash

Biodegradable and phosphate free

Perfect to take on holiday or simply to try out the fragrances and see which you prefer

Perfect little extra to include with that gift basket or special knitted item
SOAK  figure that if it's not good for your skin, it's not good for your hand-washables either. So they've made sure that all the ingredients in their gentle, no-rinse formulation are skin and fabric-friendly, with no harsh chemicals or overwhelming fragrances. You can even use it to wash baby stuff and shampoo your pets!
The Scents
Fig: Fresh-picked clean. Fig is ripened with sweet fig and lychee and crowned by dandelions.
Yuzu: Clean with a peel. Pucker up and give your laundry some love with a kiss of tart citrus + crushed eucalyptus.
Lacey: Lacey combines spring blossoms with sweet bergamot creating a light yet alluring fragrance.
Celebration: Inspired by the essence of Red Tea. Sweet, delicate and absolutely delicious, this perennial favourite smells like good, clean fun.
Want a bigger bottle to keep in your laundry for your special knits? 375ml bottles can be found here
Soak sachets
I bought the sachets as gift to go with socks I'd knitted. I always use it so naturally gave some with the items