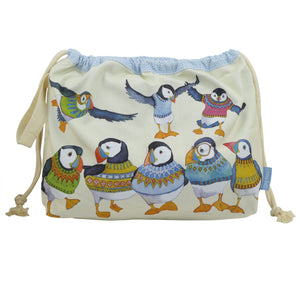 Featuring Puffins in jumpers these super cute bags are made from cotton. Measuring 39cm(L) x 31cm(H), these bags have a drawstring enclosure with a hanging loop to store anywhere in your home.
They are lined inside with a matching pattern, printed on both sides, and have a drawstring enclosure.
Woolly Puffins project bag
Love it! Great size, love the draw string and cute puffins on the outside. Perfect❣️
Love all the Emma Ball Puffin items that I bought. Mug, make my drink, take out the puffin project bag, select crochet hook from puffin pencil case and and the stitch markers I put in the wee puffin tin. I'm all ready to enjoy an afternoon of crochet. All items chosen to hold these specific items and the work a teat. Very happy with these purchases. Thank you Eskdale Yarns
Puffin Bag
Love the size, used it when going on holiday and took enough yarn for a garment
Love it!
Love the jolly puffins in their colour work jumpers! Good quality project bag - good size, well made, excellent value. Highly recommend.
Gorgeous Project bags
Absolutely beautiful product - so beautiful that I have bought 2 more!
The staff at Eskdale Yarns are a dream to deal with and I'm currently waiting for my third package from them!