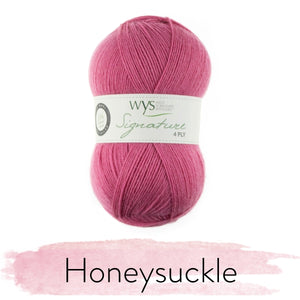 Honeysuckle is part of the beautiful WYS floral shades reminiscent of Summer. The yarn contains 35% luxurious Blue Faced Leicester wool making it a sumptuous sock yarn.
One ball is usually enough to make a pair of socks.
Fibre: 75% wool (including 35% Blue Leicester), 25% Nylon
Weight: 4 ply/ Fingering
Yardage: 400m per 100g ball
Gauge: 28 sts/ 36rows per 10cm on 3.25mm (US 3) needles
Care: Machine washable 30 degrees, reshape whilst damp
Such a nice colour
Very happy with this yarn and the colour is exquisite. Can't wait to knit with.