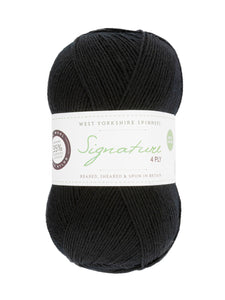 WYS Liquorice is an eye catching 4 ply yarn containing 35% luxurious Blue Faced Leicester wool making it a sumptuous sock yarn.
This yarn looks fabulous on it's own or paired with the Winwick Mum sock yarns or the WYS Cocktail range.
One ball is usually enough to knit a pair of socks (Check your pattern requirements).
Fibre: 75% wool (including 35% Blue Leicester), 25% Nylon
Weight: 4 ply/ Fingering
Yardage: 400m per 100g ball
Gauge: 28 sts/ 36rows per 10cm on 3.25mm (US 3) needles
Care: Machine washable 30 degrees, reshape whilst damp.
WYS Sweet Shop 4ply
Love WYS 4ply for socks🧦? Lovely to knit and washes & wears superbly 🤩.