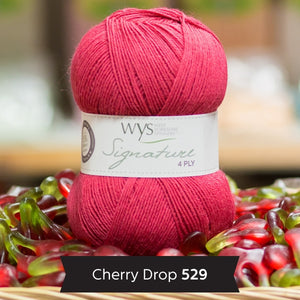 Cherry Drop is part of the beautiful WYS Sweet Shop shades. The yarn contains 35% luxurious Blue Faced Leicester wool making it a sumptuous sock yarn.
One ball is usually enough to make a pair of socks.
Fibre: 75% wool (including 35% Blue Leicester), 25% Nylon
Weight: 4 ply/ Fingering
Yardage: 400m per 100g ball
Gauge: 28 sts/ 36rows per 10cm on 3.25mm (US 3) needles
Care: Machine washable 30 degrees, reshape whilst damp
Really lovely thank you. Speedy service too.
WYS Cherry Drop sock yarn
Beautiful wool to knit with a consistantly even finish. Good fibre memory and retractable stretch. Non scratchy finish good for projects requiring contact with skin. Colour remained fast after washing.
Gorgeous colours, can't wait to start knitting!
WYS sock yarn
This yarn is lovely to knit with and the finished socks wash and wear very well. My order arrived very quickly - thank you very much :-)
WYS socks yarn
Love the feel of wool . Lots of recommendations for this Signature WYS for socks durability.