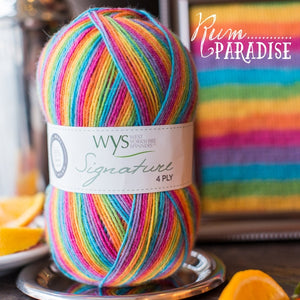 West Yorkshire Spinners Rum Paradise is a self striping yarn inspired by classic cocktail colours. Blue Lagoon is part of the Cocktail range contains 35% luxurious Blue Faced Leicester wool making it a sumptuous sock yarn.
One ball is usually enough to make a pair of socks.
Fibre: 75% wool (including 35% Blue Leicester), 25% Nylon
Weight: 4 ply/ Fingering
Yardage: 400m per 100g ball
Gauge: 28 sts/ 36rows per 10cm on 3.25mm (US 3) needles
Care: Machine washable 30 degrees, reshape whilst damp.
Kia Ora
I was so excited to learn from someone at our local Farmers Market that there was someone in New Zealand who had yarn from WYS that contained BFL. As nowadays I only knit socks I could hardly contain my excitement.
Home I rushed and immediately placed an order. As yet I have to finish another pair of socks before I started another project.
Can't wait but am certain result is going to be fantastic
All the best and thank you. Will be in touch later
Anne
I am very happy with the yarn and what it has produced.