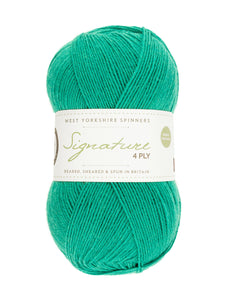 WYS Blue Raspberry is an eye catching 4 ply yarn containing 35% luxurious Blue Faced Leicester wool making it ideal for projects such as hard-wearing socks, or stylish shawls with fantastic drape and softness.
This yarn looks fabulous on it's own or paired with the Winwick Mum sock yarns or the WYS Cocktail range.
One ball is usually enough to knit a pair of socks (Check your pattern requirements).
Fibre: 75% wool (including 35% Blue Leicester), 25% Nylon
Weight: 4 ply/ Fingering
Yardage: 400m per 100g ball
Gauge: 28 sts/ 36rows per 10cm on 3.25mm (US 3) needles
Care: Machine washable 30 degrees, reshape whilst damp.