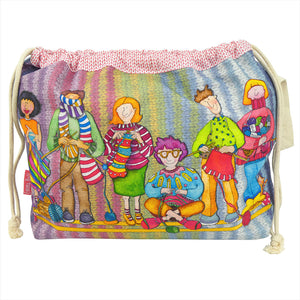 Made from cotton and measuring 39cm(L) x 31cm(H), these gorgeous bags feature knitters and crocheters.
They have a drawstring enclosure with a hanging loop to store anywhere in your home. They are lined inside with a matching pattern and are printed on both sides
Drawstring bag
The bag is great, perfect size for my current project. Well made.
So like the bag, roomy, colourful and practical for intended usage.
Love love love it
These bags are absolutely gorgeous and very generously sized.
I have two project bags one for socks and one for knitting scarves.
I live using both draw string bags.
My Christmas box was amazing.
Thank you