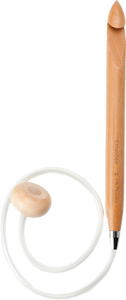 Crafted with strong Miso bamboo and kind to the hands these bamboo Tunisian Hooks are beautiful to crochet with.
They have fantastic stainless steel joins and the hook swivels freely from their 60 or 80cm cables.
Larger sizes and other length cords available on request. 
Please note that we don't keep the full range in stock. They usually arrive within 48 hours from the supplier if  needed.
ChiaoGoo Flexible Tunisian Hooks
ChiaoGoo Flexible Tunisian Hooks
Love These
An trying Tunisian Crochet for this first time, loving it, the hooks are wonderful and make my new skill easy, don't think I will go back to knitting now!!
Wonderful Tunisian Set
This is a great set of Tunisian hooks, smooth bamboo but slightly grippy at the same time; love that it goes up to 10mm too (KnitPro Symphonie Tunisian hooks stop at 8mm for comparison). The organiser sleeve is really nice with plenty of space. Beautifully packaged by Eskdale Yarns, so it was like opening a present rather than a purchase.
Tunisian Crochet Hook & cable
Absolutely delighted with this purchase, thank you so much Eskdale yarns for your prompt and extremely fast service. The quality of this product was perfect, and pleased to say am now besotted with Tunisian crochet!