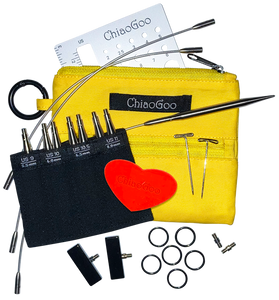 New Chiaogoo yellow Shorties interchangeable tips. Yellow Shortie set (5.5mm-8mm).
This set is great for knitting sleeves in-the-round! Perfect for chunky style sweaters.
The NEW Chiaogoo Shorties [L] extension set includes:
* 3" (8 cm) long tips in sizes 5.5, 6, 6.5 and 8 mm stored in a tip sleeve
(Sizes (7 & 7.5mm) are NOT included and can be purchased here)
* Cables to make 12" (30 cm) or 14" (36 cm) long circulars
The Yellow Shorties set comes in a yellow pocket pouch and includes three of the new SWIV360 cables, stoppers, connectors, stitch markers, a needle gauge, heart-shaped rubber gripper and tip sleeve.
Yellow case shorties
I love the yellow case for my shorties and the spin cords are fantastic, I am really thrilled with the set.
thank you